Saturday, 12 February 2011 - Reported by Chuck Foster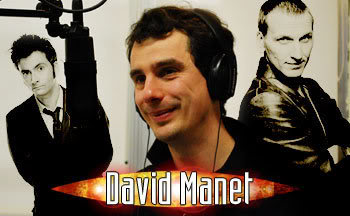 The French Doctor Who fansite
Beans on Toast
have published an exclusive audio interview with
David Manet
, the former French voice of the Doctor.
Entitled
"The End of an Era"
, the Belgian voice artist - who portrayed the Doctor's voice throughout his Ninth and Tenth incarnations - talks candidly about his interpretation of the role, and also of his career in dubbing.
In a translated extract below, Manet talks of his best memory of dubbing Doctor Who:
What I remember is the pleasure of working on Doctor Who, the surprises that came in the scripts and the quality of this show. I enjoyed working on the series with David [Macaluso, artistic director]. At times, it was exhausting - really - and sometimes it was frustrating because we couldn't quite match the original performance. Because Doctor Who is very British, in the way it is made, its spirit, language and energy. So, as a voice actor, you do get frustrated when you think "this is not quite as good as it could be". In a dub, there's bound to be a big part of betrayal of the original. But what I'll remember the most is what a pleasure it has been. I regret that I could not continue to dub Doctor Who, even if I think Marc [Weiss, voice of the Eleventh Doctor] is doing an excellent job, but I'd have continued - very gladly - for one more year of Doctor Who!

The full interview was recorded in Belgium on the 1st February, and is available to listen to in French from the
Beans on Toast
website, alongside photos of Manet receiving some special gifts to thank him for his work at the end of the interview.
You can also read an interview with the actor from 2009 on site here.