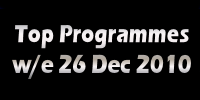 BARB
have now issued the official ratings for the Week Ending 26 December, confirming
A Christmas Carol
has a final rating of
12.11 million
viewers. Once figures for those watching on HD are factored in, the programme finished fourth for the week, behind
EastEnders
,
Coronation Street
and the new Matt Lucas and David Walliams comedy,
Come Fly With Me
.
Only eight other Doctor Who episodes have ranked fourth or higher in the weekly charts, including Matt Smith's first story,
The Eleventh Hour
.
Thank you to all those who entered our
Christmas Competition
.
The standard was high with over 25% of answers within half a million of the correct answer.
The highest guess was an optimistic 15.48 million and the lowest a pessimistic 7.4 million.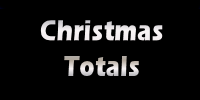 Only one person,
Peter Hart
of Oxford in the United Kingdom, correctly guessed the exact number of 12.11 million.
He wins an
Eleventh Doctor Christmas Adventure Set
and as a bonus for guessing the exact number we will be sending a DVD of
A Christmas Carol
.
We have five runners up who also win an Eleventh Doctor Christmas Adventure Set.
Chris Chalmers of London (12.10 million)
Russell Reinke of Lake Wales, Florida (12.12 million)
Kevin James Kirby of Camarillo, California (12.12 million)
Lyndsey Robinson of Melton Mowbray, Leicestershire (12.08 million)
Sharon Vincent of Carterton, Oxfordshire (12.14 million)