Sunday, 30 January 2011 - Reported by Chuck Foster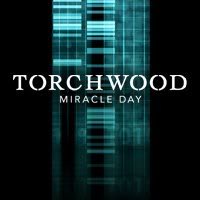 This week saw
Torchwood: Miracle Day
return to its 'ancestral' home of
South Wales
!
The lead-up to the week saw the cast and crew out in Los Angeles make their way to the United Kingdom; of the principle cast, this meant a return home for
John Barrowman
,
Eve Myles
,
Kai Owen
and
Tom Price
, and joined (so far) by
Mekhi Phifer
and
Dichen Lachman
. Crew-wise, Director of Photography
Nathaniel Goodman
and Directors
Bharat Nalluri
(episode one) and
Bill Gierhart
(episode two) also travelled over.
Last and certainly not least the two series masterminds
Russell T Davies
and
Julie Gardner
were also back amongst the familiar faces from the UK, including Producer for the UK segments
Brian Minchin
, whose name forms the basis of the "BM" production signs for the shoot.
Filming this week saw the crew ranging between Cardiff International Airport, a village farm, Rhossili Bay and the streets of Swansea!
Unlike in the US, production in the UK has not been shrouded in heavy security, and with a (mostly) UK production team in attendance, the traditional approach to filming that fans here are used to have continued. This has, of course, meant that the public have been able to witness more of the proceedings than in the previous fortnight, so this week's roundup includes many of their observations as well as the cast and crew's usual tweets!
Times cited within the report are in GMT.
Some final updates from the Production Office:
18:16 We've just got word that today's unit base is located
      at the school where Russell's mother used to teach. Quite nostalgic.
19:23 Mekhi's just finished his photo shoot dressed in a blood soaked shirt.
      All we can say is YES!
03:32 Temperatures are falling to -2 on tonight's shoot.
      The wet down of the location is cancelled in case of freezing.

Saturday
The second day of filming on Cambridge Street.
Eve Myles
was again present, as were
Danny Szam
("surveillance") and
Ian Hughes
(Ralph Finch). Activity during the day seemed to involve more various comings and goings at the Cooper household, both furtively and in a more official capacity.
It was the first time I'd visited a Torchwood location since they filmed the "Newport riots" for Children of Earth in October 2008. Security was much tighter yesterday. I doubt they'd've blocked the road off with barriers in the past. That said, the security guards didn't seem bothered by my taking a few pics. Perhaps that was because filming was too far away to get more than a few pixels even with my 24x zoom!
Still, it was worth the trip to see Torchwood back on a typical South Walian street. The highlight of that last day in 2008 was Eve Myles turning up in a pair of green wellies, so it was nice that yesterday's scene was also all about Eve. It was hard to tell what was going on, but it seemed to involve some official-looking chaps paying a visit to Gwen at Number 27.
You can read more filming reports from Alun at his blog Posterous, and further photos from Saturday on Flickr
Finally, a view more shots courtesy of the locals of
Cambridge Street
who have lived with the cast and crew taking over their street for the last couple of days!
Filming is expected to continue in Sketty for another couple of days, with reports of activity at a recently closed butcher's shop.
Around the corner. They are going to drive a car into the front of my butcher's shop. Luckily he stopped trading last month. I do hope they put it back nice. Beautiful curved corner of old-fashioned shop fronts.

Another possible location is in the
Magor
area for Monday 31st January, though currently unconfirmed - as there are two episodes with two directors currently active it is possible that two units are operational in different parts of South Wales!
Tuesday 1st February sees the team filming at the
Coal Exchange
in Cardiff Bay - just a mere stone's throw away from the original home of Torchwood at Roald Dahl Plass!