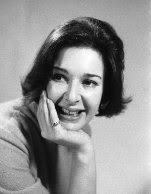 Oxford University Press
have updated their
Oxford Dictionary of National Biography
this month with the biographies of some 216 people who died during 2007; the list includes Doctor Who's original producer
Verity Lambert
, who
died on the 22nd November
of that year.
Though much the Dictionary is only available free for users in subscribing institutions (and most UK residents with library cards through their local library and via the
remote access scheme
), their
Lives of the Day
articles are accessible to the general public for a week, and you can read the article on Verity Lambert on the
ODNB site
until next Tuesday
(alternative link to the article may be found here)
.
The article has been illustrated with a photo of Lambert with the alien delegates from
Mission to the Unknown
; previous entries on the ODNB that have included images relating to Doctor Who include William Hartnell (the Doctor with Sensorites) and Jon Pertwee (publicity shot with the Daleks).
The Oxford Dictionary of National Biography is a collection of more than 57,000 specially written biographies, which describe the lives of people who shaped the history of the British Isles and beyond from the 4th century BC to the 21st century. Online since 2004, the dictionary is updated three times a year, with January concentrating on those who died four years previously.