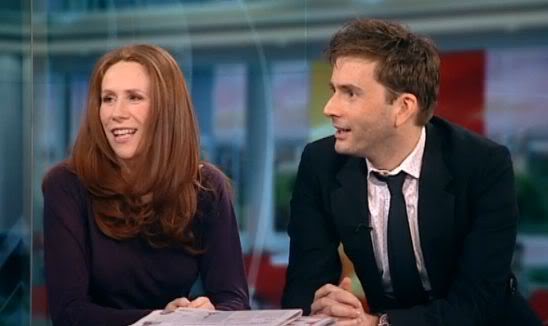 Readers in the United Kingdom may watch the interview via
BBC News
.
David Tennant
and
Catherine Tate
appeared on BBC's
Breakfast
this morning to chat about their latest project together.
The two are to appear in a production of William Shakespeare's
Much Ado About Nothing
, which opens in London's
Wyndham Theatre
from
16th May 2011
. They will be playing the roles of combative lovers Beatrice and Benedick in the play, being directed by
Bush Theatre
Artistic Director
Josie Rourke
.
This is the duo's first full collaboration together, though they have been firm friends since meeting for the first time on the set of
Doomsday
and have presented
The Jonathan Ross Show
for BBC Radio 2 together a number of times. Catherine Tate explained:
The idea came from us, we went to them. I'd always wanted to do it, but never said, because I thought it was too close to the Doctor Who time when I was thinking about doing it ages ago, with David - he would have been absolutely my ideal Benedict. And then David just rang in the summer and said "look I'd like to do it, what do you think?" and I said oh god I've been wanting to ask you for years!

David Tennant's last appearance on the stage playing
Hamlet
met with
critical acclaim
, and he talked about returning to the theatre:
Theatre is where we both started really, and it still to me feels like my proper job a little bit. And although I've had the opportunity to go and do lots of exciting things elsewhere on tv, films and so on, going back to the theatre feels like something that I would naturally do. And to get the chance to go to work with your mates and do a play you really wanted to do just felt like an opportunity that was too good to miss.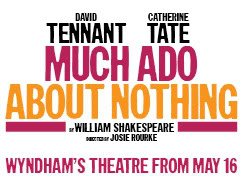 David Tennant is not a stranger to the role, having previously played Benedick in a BBC Radio 3 adaptation of the play alongside Samantha Spiro as Beatrice. The play first broadcast September 2001, was repeated in November 2005 - a month before his debut story as the Doctor,
The Christmas Invasion
.
Catherine Tate is currently appearing in
Season's Greetings
at the National Theatre, alongside Mark Gatiss and David Troughton.
The issue of tickets were discussed on the programme (available to book now from the theatre), especially in regard to how quickly tickets sold out for Tennant's performance in Hamlet - subsequently this morning has seen the booking facilities for the play overwhelmed by fans of the duo trying to obtain tickets!