Unofficial overnight figures show
Doctor Who: A Christmas Carol
was watched by an audience of
10.3 million
on BBC One and BBC One HD last night.
The programme was the second highest rated for the day with
EastEnders
taking the top place with 11.4 million. The new Matt Lucas / David Walliams comedy,
Come Fly With Me
was third with just a few thousand viewers short of Doctor Who.
Once again the BBC triumphed with eight of the top ten places. Against Doctor Who ITV scheduled
Emmerdale
, which got 7.2 million watching. Doctor Who got a share of 39.8% of the total audience.
So far Doctor Who is the fourth most watched programme for the week, behind one Coronation Street and two EastEnders.
1.3 million watched the programme on
BBC One HD
.
Last year
, Doctor Who achieved an overnight rating of 10.4 million watching on BBC One and BBC HD, and was third for the day.
On BBC Three Doctor Who Confidential had 207,000 watching, a 0.8% share of the audience.
It is important to note that the overnight figures are an initial estimate. Final figures, including those who record the programme and watch it within a week, will be published by BARB in around 8 days time.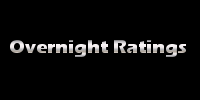 NB: The 9am Christmas Day repeat of The Sarah Jane Adventures,
Death of the Doctor
, got an overnight rating of
1.4 million
, far higher than its initial showing on the channel.