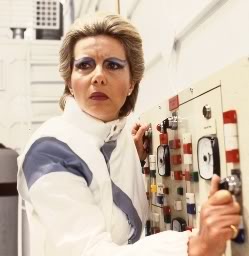 The actress
Ingrid Pitt
has died at the age of 73.
Ingrid Pitt had two roles in
Doctor Who
. She played the role of Galleia in the 1972 third Doctor story
The Time Monster
. Galleia was Queen of Atlantis and the wife of King Dalios. In 1984 she returned to the series to play Solow in the fifth Doctor story
Warriors of the Deep
. During the eighties she also co-wrote a Doctor Who story
The Macros
with her husband Tony Rudlin which, though it never progressed into a televised production at the time, was later produced by
Big Finish
as part of their
Lost Stories
series.
Pitt was best known for her work in horror films of the 1960s and 1970s. She was born in Poland on 21 November 1937 as Ingoushka Petrov. She had a German father and a Jewish mother and as a result she and her family were imprisoned in a concentration camp during the second World War. In 1965 she made her film debut in
Doctor Zhivago
, playing a minor role. In 1968 she co-starred in the low budget science fiction film
The Omegans
and in the same year played in
Where Eagles Dare
opposite Richard Burton and Clint Eastwood.
Her work with Hammer Film Productions elevated her to cult figure status. She starred in
The Vampire Lovers
, and
Countess Dracula
, as well as having a small part in the cult film
The Wicker Man
. She founded her own theatrical touring company and starred in successful productions of
Dial M for Murder
,
Duty Free
, and
Woman of Straw
.
Pitt made her return to the big screen in the 2000 production
The Asylum
. The film starred
Colin Baker
and Patrick Mower. In 2003, Pitt voiced the role of 'Lady Violator' in Renga Media's production
Dominator
. The film was the UK's first CGI animated film.
She died earlier today at a hospital in south London after collapsing a few days ago.