Monday, 22 November 2010 - Reported by Harry Ward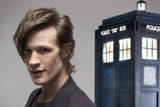 The
latest Nerdist Podcast
which features an interview and chat with
Matt Smith
has been released.
Smith talks briefly about a new monster that appears in Episodes 1 and 2 of Series 6 which Smith says "is on par with The Weeping Angels" and is part of a story arc from Series 5. Other topics discussed include Smith's audition to play The Doctor, his early career before the Who role, playing with
Orbital
at Glastonbury earlier this year
and his short stories that he wrote about The Doctor and
Albert Einstein
.
Smith recorded the podcast with the host
Chris Hardwick
on the same day the two of them were guests on
The Late Late Show with Craig Ferguson
.
Please note that this podcast does contain some strong language.