Thursday, 22 July 2010 - Reported by Chuck Foster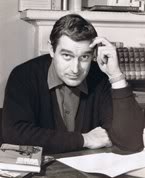 "
The Man Who Invented The Daleks: The Strange Worlds of Terry Nation
" is a new biography on the life of writer
Terry Nation
by
Alwyn W. Turner
, and is due to be published by Aurum Books during the spring of next year.
The book will focus on Nation's work during the 1960s and 1970s, covering series such as
Survivors
,
Blake's Seven
,
The Avengers
,
The Saint
,
The Persuaders!
and of course
Doctor Who
, plus his involvement with comedian Tony Hancock and Associated London Scripts.
Says Sam Harrison from Aurum:
In his acclaimed histories Crisis? What Crisis? and Rejoice! Rejoice! Alwyn has proven himself one of the most stylish and authoritative writers on British popular culture working today. By drawing together the various strands of Terry Nation's life and career, this book will offer a captivating window onto the creative melting pot without which British television today would look very different.
The author Alywn Turner is interested to hear from anyone who knew and wishes to share their memories of Terry Nation, and may be contacted by
email
.