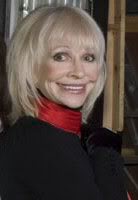 Former Doctor Who companion
Katy Manning
will be doing the
Crusaid Walk For Life
this Sunday, 6th June, in London.
Manning played Jo Grant, assistant to the third Doctor,
Jon Pertwee
, from 1971-1973, and will return to the character when she stars alongside new Doctor
Matt Smith
in The Sarah Jane Adventures later this year.
She volunteered to do the walk with the deputy editor of GT magazine,
Darren Scott
, when she heard he had agreed to do the walk in a novelty Dalek costume. Referring to her infamous naked Dalek photoshoot from the 70s, she joked that the pair should recreate the pose, albeit fully clothed.
Crusaid's Walk for Life is Europe's largest fundraising walk for HIV and AIDS. The pair can be sponsored via the
event website
.