Wednesday, 8 June 2011 - Reported by Anthony Weight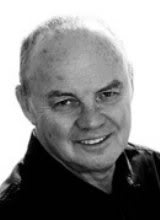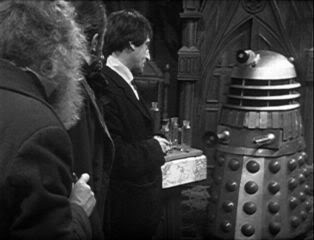 Voice actor
Roy Skelton
, who contributed to dozens of
Doctor Who
episodes across the eras of all seven of the classic series Doctors, has died at the age of 79.
BBC News reports
that the actor suffered from a stroke.
Best known in
Doctor Who
circles for his Dalek and Cyberman voices, he was also well-known in British television for his voice work on the famous children's series
Rainbow
, where he famously provided the vocal characterisation of the puppets George and Zippy.
Born in Oldham in July 1931, Skelton's first involvement with
Doctor Who
came when he provided voices for the Monoids in the 1966 William Hartnell serial
The Ark
. He returned to the series later that year to provide voices to the first ever Cybermen in Hartnell's finale as the Doctor,
The Tenth Planet
. It was in 1967 that he first took on the role he became most associated with on
Doctor Who
, when he voiced the Daleks in
Evil of the Daleks
, lining up against Second Doctor Patrick Troughton. He then provided Dalek voices right through until their final classic series appearance in 1988's
Remembrance of the Daleks
, starring Sylvester McCoy. He also made the occasional on-screen appearance, such as briefly playing the body of the Spiridon Wester, whose voice he had provided, when the character became visible on his death in the Jon Pertwee serial
Planet of the Daleks
in 1973.
Skelton's ability to provide Dalek voices in different registers which he could switch between as recording was in progress enabled a variety of characterisation and conversation to be played in Dalek scenes. This ability to quickly switch between voices also served him well on
Rainbow
, a series he stayed with from its origins in the early 1970s through to the 1990s, where he was frequently called on to voice quick-fire conversations between his two characters of George and Zippy.
His association with two such long-lasting series fondly remembered by the British public meant that Skelton often appeared in documentaries and interviews, and he even returned to voice Zippy for a surreal guest appearance in a 2008 episode of the BBC One drama series
Ashes to Ashes
, set in an illusory version of the early 1980s.
His Rainbow co-star Geoffrey Hayes told the BBC:
The most wonderful thing was if Zippy and George were having an argument between themselves, it sounded like he'd double-tracked it as they seemed to be talking over each other. It was a wonderful technique and I don't know how he did it. Although he was known for Zippy and George he was actually a fabulous actor with a great singing voice and a wonderful raconteur - he used to tell us some wonderful stories.