Friday, 8 January 2010 - Reported by Marcus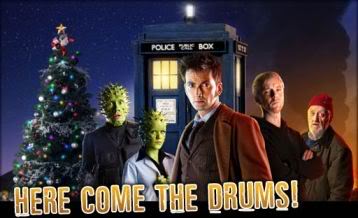 Final figures released by
BARB
make Doctor Who the most watched programme of Christmas week.
The End of Time, Part One
had a final rating of
11.57 million
on BBC One, much higher than the initial overnight figure reported. This alone makes the programme the 3rd highest rated on British Television for the week.
However if figures for those watching on
BBC HD
are included, as they arguably should be given the programme was simulcast on both channels, then an additional 470,000 viewers are added. This gives the episode had a final figure of
12.04 million
viewers for its first showing, pushing the programme into the lead as the most watched programme of Christmas week.
This makes the episode one of only two in Doctor Who's long history to have been the most watched programme of the week. It is the 3rd highest rating since the series returned in 2005, only beaten by two previous Christmas specials, Voyage of the Damned and The Next Doctor. It has the 28th highest rating in the series history.
Doctor Who was the fifth most watched programme of the year, only being beaten by the Simon Cowell talent programmes. It was the highest rated programme on all of BBC Domestic Television, the first time this has happened. The previous highest place was 2nd for the year for The Voyage of the Damned which lost out to EastEnders. It was the highest rated drama of the year.
Another
1.18 million
watched the repeat of the programme on BBC Three on Sunday, double the initial overnight figure, with an additional
770,000
watching on the iPlayer during the week. If the ratings for those who watched the programme on any platform during the first week after transmission are added together the total stands at an incredible
15.99 million.
Final figures for the second part of the story will be released next week.