Tuesday, 25 August 2009 - Reported by Marcus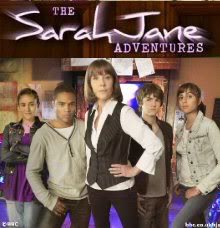 The second series of
The Sarah Jane Adventures
will be released on DVD in the
UK
on
9th November 2009
and in the
US
a day later on the
10th November 2009
.
The series consists of the stories The Last Sontaran, The Day of the Clown, Secrets of the Stars, The Mark of the Berserker, The Temptation of Sarah Jane Smith and Enemy of the Bane. It was first shown in the UK in the Autumn of 2008.
Extras include

• Interview with cast and crew
• Season synopses for all stories
• Investigating Tools – a gadget glossary
• Quiz with special footage prize
• Character and alien profiles
• Photo gallery
• Audio clips
• UK TV spots
• Trailers
Series Three is expected to be shown in the UK this Autumn.
2-entertain
have indicated there will be no
Doctor Who
release in December. The Kamelion box set is now expected early in 2010. The second Doctor story
The Dominators
is also expected early in 2010 following an brief, unofficial release of a promo for the story on YouTube.
A new series box set consisting of the complete Series 1 – 4 will be released on 26th October.