Friday, 21 August 2009 - Reported by Marcus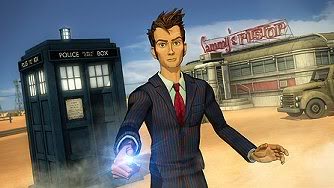 The
BBC
has launched the new
Dreamland blog
, detailing the production process behind the six-part animated adventure due later this year.
The story, voiced by
David Tennant
and written by
Doctor Who
writer
Phil Ford
, takes the Time Lord to Roswell, where he stumbles upon a mysterious alien artefact that leads him on a mission to rescue Rivesh Mantilax from the threat of the Viperox and the clutches of the American military.
Commissioned by BBC drama multiplatform, the series will be available on Red Button and on the
Doctor Who
website. CBBC will then show the entire 45-minute animation on BBC Two this autumn, as will the BBC HD channel.
Rosie Allimonos, drama multiplatform commissioner, said the series 'presents an amazing opportunity to expand the multiplatform storytelling potential of
Doctor Who
'.
The Doctor will be joined by a new companion, Cassie Rice, played by
Georgia Moffett
, who played the Time Lord's daughter Jenny in Series Four.
David Warner
stars as the leader of the ruthless Viperox.
In the run up to the animation, fans will be able to visit the
Doctor Who
website and follow a behind-the-scenes production blog on the making of
Dreamland
, giving the opportunity to follow the progress of the animation as it develops.
Produced by Brighton-based animation company Littleloud, the animation is being executive-produced by
Russell T Davies
,
Julie Gardner
and
Piers Wenger
. '
Dreamland
is a remarkable project and I'm thrilled with it. Phil Ford is a wonderful writer and promises to send the Doctor into a whole new visual dimension,' Davies said.