The cover and contents of the forthcoming two-disc special edition DVD release of
The Ark In Space
in the UK have been finalised.
All four episodes have been newly remastered, using advances in technology and technique, and are supported by an expanded collection of bonus features.
The Ark In Space - Special Edition
Release date:
25th February 2013
(Available for pre-order)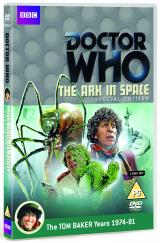 Starring
Tom Baker
as the Doctor, with
Elisabeth Sladen
as Sarah Jane Smith and
Ian Marter
as Harry Sullivan
Written by
Robert Holmes
Directed by
Rodney Bennett
Broadcast:
25th January - 15th February 1975
The TARDIS arrives on the apparently deserted and deactivated space station Nerva, otherwise known as the Ark, orbiting Earth in the far future. There, the Doctor, Sarah and Harry discover the last survivors of the human race held in suspended animation, Earth having been evacuated thousands of years earlier when solar flares threatened to destroy all life. However, the Ark's occupants face a new threat in the form of the Wirrn - an invading insect life form.
Special Features
Commentary: With actors Tom Baker and Elisabeth Sladen plus producer Philip Hinchcliffe
A New Frontier: Making The Ark In Space
TV movie version: The 70-minute repeat compilation of the story that was broadcast on 20th August 1975
Dr Forever! – Love And War: A new documentary examining the Virgin/BBC Books range of novels produced during the show's hiatus. Interviewees include Russell T Davies and Mark Gatiss
Scene Around Six: 1978 news footage of Tom Baker's public appearances in Northern Ireland
8mm location footage: Amateur film shot during Tom Baker's first story
Interview: With designer Roger Murray-Leach
Alternative title sequence and model footage
Optional CGI effects
Original BBC trailer
3D technical schematics
Photo gallery
TARDIS Cam
Coming Soon trailer
Production information subtitles
Radio Times listings, Doctor Who Technical Manual, plus Crosse & Blackwell and Nestlé promotional material (Adobe PDF format)
Digitally remastered picture and sound quality
UPDATE: 11th FEBRUARY:
The release date - originally set for
18th February
- has been pushed back a week to
25th February
.