Tuesday, 24 March 2020 - Reported by Chuck Foster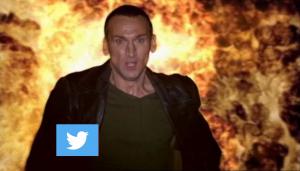 Following on from the popular global viewing of
The Day Of The Doctor
last Saturday
, a followup event featuring the first episode of 21st Century
Doctor Who
,
Rose
is planned for this coming
Thursday, 26th March at 7:00pm GMT
- the exact time of its fifteenth anniversary! As with #SaveTheDay, viewers around the world are invited to watch the episode and comment along.
To join in, simply pop in your DVD or Bluray disc, or access a streaming service such as BBC iPlayer or Netflix, and then hit play at 7:00pm GMT/3:00pm ET/6:00am AEDT/8:00am NZDT and share your viewing experience!
Tweet #TripOfALifetime
With
Steven Moffat
getting involved last weekend, original writer and showrunner
Russell T Davies
has announced he too will be rejoining Twitter to join in the fun on Thursday, revealing something special to mark the occasion via his
Instagram account
:
ROSE livestream and tweet-a-long, THURSDAY 26 MARCH at 7pm GMT. Come and have fun! Before that, Thursday daytime, time TBC, we'll release ROSE: THE PREQUEL on the BBC's Doctor Who website - it's a lost piece of history from the 50th anniversary year, 2013. Never seen before! ROSE is available in the UK on BBC iPlayer and Netflix; worldwide, check your own resourced (don't ask me, I have no clue!). If you can't find a copy, close your eyes at 7om GMT and feel my psychic link. Yeah. I'll be tweeting along, twitter handle to be named on Thursday! Plus more surprises to come. Oh what a lockdown this is! #TripofaLifetime