Friday, 16 August 2013 - Reported by John Bowman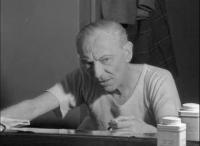 A TV interview with
William Hartnell
dating from 1967 has been unearthed and will feature on the DVD release of
The Tenth Planet
.
The news broke today following the
BBFC's classification of extras
, which included an interview with Hartnell among them.
Doctor Who Restoration Team
member
Steve Roberts
confirmed
that it was an in-vision interview - meaning that it was on screen as opposed to just being audio - and stated that it was fellow team member
Richard Bignell
who had discovered it.
The interview was conducted by
Roger Mills
for
Points West
- the BBC's regional news show - and was held in the dressing room of the
Gaumont Theatre
in
Taunton
, where Hartnell was appearing in the panto
Puss In Boots
less than three months after last being seen in Doctor Who. The interview aired on
Tuesday 17th January 1967
.
The extra runs for 3 min 16 sec, and Bignell
detailed
the discovery of what is now the only known on-screen interview with Hartnell to exist:
A few years ago, I was doing research into the article I was preparing for Issue 3 of
Nothing at the End of the Lane
on Hartnell's rather disastrous performance as Buskin the Fairy Cobbler in the pantomime Puss In Boots, which toured around four different venues in December 1966 and January 1967, just three months after he had completed work on The Tenth Planet.
Whilst doing some work at the BBC Written Archive Centre, I checked the respective Programme-as-Broadcast sheets for the period, looking specifically at the local BBC news programmes to see if Hartnell's appearance in panto was deemed worthy of a television report.
He was in fact interviewed twice. Once in the first week of the tour in Ipswich (shown on Look East on 27th December 1966) and again during the final week in Taunton for Points West, shown on 17th January 1967. As I'd built up some contacts in the BBC's regional news libraries working on the DVDs, I dropped the respective archives a line to see if there was any chance the two interviews survived.
The first interview for Look East had long gone, but the ladies in the Bristol News Library very quickly got back to me to say that the interview done in Taunton still survived. We arranged for the footage to be sent over to London, where it was duly transferred. It shows Hartnell in his dressing room doing his make-up for one of his performances, with his "Doctor's ring" on the table and a Berwick Dalek playsuit stuffed in the corner. Hartnell speaks about his problems acting against the Daleks and how pantomime isn't "legitimate" theatre! Enjoy!!
Roberts also
revealed
that
David Bradley
was shown the footage as part of his preparation for playing the role of Hartnell in the upcoming BBC Two drama
An Adventure In Space And Time
.
The Region 2 DVD will be released on
Monday 18th November
and is available to
pre-order
.