A special souvenir magazine from the makers of
Doctor Who Magazine
has been released: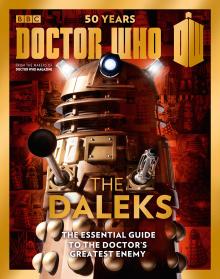 50 Years: The DaleksThe Essential Guide to the Doctor's Greatest Enemy
The first of three very special publications celebrating Doctor Who's 50th anniversary focuses on the Doctor's greatest enemies – the Daleks!
Packed into 116 pages is everything you could want to know about the metal monsters from the planet Skaro – from their original encounter with the First Doctor in 1963 to their latest appearances with the Eleventh Doctor.
Each and every Dalek TV adventure is covered, plus there are exclusive interviews with Dalek voice man, Nicholas Briggs, TV director Graeme Harper, and the actor who played Davros in the 1980s, Terry Molloy. There's also a look at 1960s Dalek merchandising; how the Daleks were redesigned for the twenty-first century; a study of the career of Dalek creator Terry Nation; and a discovery of further Dalek adventures on audio, in graphic novels, computer games and on the big screen.
This souvenir volume is lavishly illustrated throughout by rare and exclusive photographs, and specially commissioned illustrations.
Doctor Who – 50 Years: The Daleks
is brought to you by the publishers of the official Doctor Who Magazine, and is available now from WH Smith, newsagents and specialist retailers.
Please note: this is a special release and is not included in any regular DWM subscription.