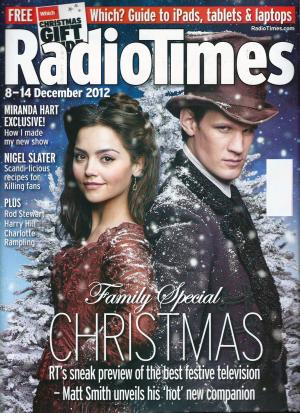 In the annual tradition, the next edition of the
Radio Times
(8th-14th December 2012) celebrates the Doctor's latest Christmas adventure with a front cover.
This issue features a three page article on the forthcoming episode. Talking about his new costume,
Matt Smith
said:
I've got a whole new Christmassy outfit and the best hat! A bit Artful Dodger meets the Doctor. There's a lot of purple this year, which is nice. I've always wanted something purple but they were always reluctant. It's taken three years to get a jaunty hat and a purple coat!

Talking about his role, guest star
Tom Ward
mentioned:
My character is an archetypal Victorian gentleman, a repressed, Establishment-type chap who is distant from his children and can't communicate with women. I couldn't resist him as he's so well written - besides a part in a Doctor Who Christmas Special was just too good an opportunity to pass up!

Not to be missed out,
Jenna-Louise Coleman
also commented about Clara and how she relates to her prior appearance in
Asylum of the Daleks
:
The connection is that it's me playing both. I'm not Oswin: I'm a different person who looks and sounds like Oswin.

You can read the full interviews in the new issue of the
Radio Times
, out today (1st December).
The next issue (15-21 Dec) is published on 6th December, with the 'legendary double issue' of the Radio Times for the Christmas period (22 Dec - 4 Jan) following on 12th December.
The Covers of Christmas Past