Tuesday, 30 November 2010 - Reported by Chuck Foster
Three items from the classic series of
Doctor Who
have been listed for
Bonham
's
Entertainment Memorabilia Sale
, taking place in Knightsbridge on
Wednesday 15th December
from
midday
.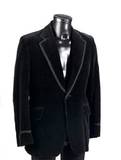 Lot 101: a black jacket worn by Jon Pertwee
, with braid to lapels and cuffs, single button to front, labelled Austin Reed, the right sleeve inscribed inside by Jon Pertwee in silver pen, To Dewey My very own! Worn for ''The Doc'' back in '69!!, also with some other very indistinct writing, believed by Pertwee when signing the jacket at a convention in February 1991.
Estimate: £3,000 - 4,000, EUR 3,500 - 4,700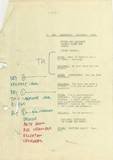 Lot 102: a script from Resurrection Of The Daleks
, 1984,contained within a folder labelled 'Warehouse, Space Ship (Dalek) Composite', with detailed notes in an unknown hand, and stage directions, the scenes of the script separated by BBC Internal Mail envelopes.
Estimate: £200 - 300, EUR 240 - 350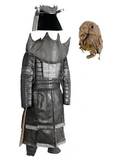 Lot 103: a Sea Devil Costume from Warriors of the Deep
, 1984, made of foam latex, fibreglass and vinyl, including, a tunic with applied scale effect and chest piece and shoulder piece, a pair of matching trousers (as suit), together with head cowl of latex, fibreglass helmet and foam latex feet.
Estimate: £800 - 1,200, EUR 940 - 1,400
The showroom is open for sale viewings beforehand, daily from Sunday 12th December.