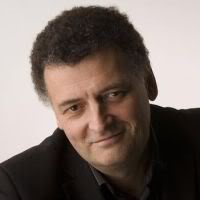 For every year since 2001 the
Guardian
has released the
Media 100
- a list of who they consider are currently the most powerful people in the UK Media; candidates for the list are judged on cultural influence, economic clout and political power over the course of the last year.
This year sees
Doctor Who
and
Sherlock
lead writer
Steven Moffat
enter the chart as number
92
:
Steven Moffat is one of a select band of writers and producers who is almost as famous as the stars who appear in his shows.

Not content with being the showrunner on the BBC's biggest-selling global hit, Doctor Who, he was also the co-creator, along with League of Gentlemen star Mark Gatiss, of one of BBC1's most acclaimed new dramas of last year, Sherlock.

Moffat, a long-time Whovian, began his TV career with the Bafta-winning children's show Press Gang and was best known for BBC2 sitcom Coupling before taking over from Russell T Davies on the time-travelling show. He also co-scripted new Steven Spielberg film, The Adventures of Tintin: The Secret of the Unicorn.

BBC executives that have an influence of
Doctor Who
's future in the list include Director General
Mark Thompson
(
4
), Director of Vision
George Entwistle
(
26
), and BBC1 Controller
Danny Cohen
(
14
)
Moffat's predecessor
Russell T Davies
was a regular in the chart when he was overseeing
Doctor Who
, entering the chart strongly for his 2004 involvement in bringing the series back at number
14
in the 2005 list, followed up by
28
(2006),
15
(2007) and
31
(2008). The Doctor himself has also appeared in the past, represented by actor
David Tennant
who was listed as number
24
in 2007.
The list is drawn up by a panel of judges, which this year included
Lorraine Heggessey
, the BBC1 controller responsible for the decision to bring
Doctor Who
back into production during 2003 (and herself ranked
46
/
54
during that period).