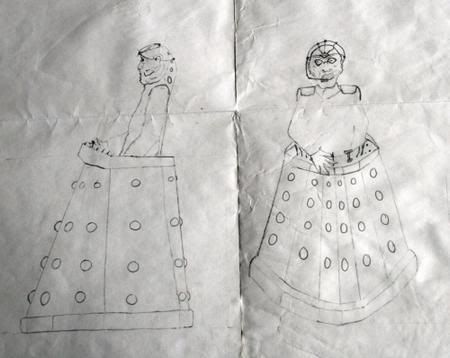 A
Doctor Who
fan has renewed his bid to claim ownership of the character of Davros.
Steve Clark
says that he came up with the name and submitted it with a design
(pictured right)
, as well as a handwritten essay entitled
The Genesis Of The Daleks: The Creation Of Davros
, for a
TV Action
competition in 1972. His entry didn't win the prize of a 17in colour TV set but he says that both the name and design were later used by the BBC without his permission. Davros was first seen in the series in
Genesis of the Daleks
in 1975.
He launched High Court proceedings last year for copyright breach after an attempt to come to an amicable solution with the corporation foundered. Now, with the case on hold, a teacher's handwriting could decide the matter.
Mr Clark, from Brabourne Lees in Kent, says that his original sketch, done when he was 13, has comments written on it by
David Tidy
, who was a teacher at Duncan Bowen School in Stanhope, Ashford, in the 1970s. He is now seeking former pupils who have books with Mr Tidy's handwriting in them, which could be used to validate the writing on his sketch and therefore his claim.
Mr Clark said:
Unfortunately the samples we have are inconclusive, according to the handwriting expert. We just need as much hard evidence as possible to help with the case as the BBC keep digging their heels in.
The BBC and BBC Worldwide dispute the claim. A spokesman said:
These proceedings are ongoing and the BBC and BBC Worldwide are defending the claim. Davros was created by Terry Nation and the BBC.
(newslink: Kent Online)