Candy Jar
have announced the second novel in the 2017 series of
Lethbridge-Stewart
books: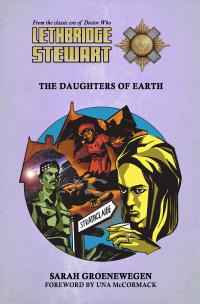 Lethbridge-Stewart: The Daughters of Earth
Written by Sarah Groenewegen
Cover by Adrian Salmon
To celebrate Lethbridge-Stewart's birthday, a romantic weekend is planned for him and Sally Wright in a remote cottage in the Scottish Highlands. Unfortunately for Sally, freak weather causes her to crash her car.
Lethbridge-Stewart, meanwhile, is in Cairngorm investigating UFO sightings with Anne Travers and Lieutenant Bishop. Elsewhere, the Daughters of Earth, a women-only peace movement, are making waves in the political world.
But just who is their enigmatic leader? And what links the Daughters with the events of Cairngorm and Sally's accident?
The book, which follows on from this month's
Night of the Intelligence
, sees Lethbridge-Stewart's fiancee, Sally, take a more central role in the story, in what will prove to be something of a game-changer for the series as a whole. Range Editor
Andy Frankham-Allen
says:
The relationship between Lethbridge-Stewart and Sally has been simmering away in the background of the series since the beginning, eleven novels in total. The Daughters of Earth has been set up very deliberately to put Sally in a position that makes her look at her position in the Corps in a very different way.

Writer
Sarah Groenewegen
(who wrote 2016 short story
The Lock-In
) said:
I wanted to explore the reasons for why she signed up, her ideals of duty in the face of the adventures they all share. Her relationship with the Brigadier, especially now they work together. Then there's her interest in a newly emerging women's lib movement arguing for peaceful solutions to mankind's many problems – the Daughters of Earth.

I had terrific fun creating a late-'60s peace movement led and run solely by women. While their politics are very much rooted in the start of women's lib – the generation before the women of Greenham Common, and the grand-generation of the women now running the resistance against current right-wing authoritarianism – there are echoes of what's happening now and how women organise. The intersections of class, race, outsiders versus those within the establishment – how prone they are to infiltration. I wrote the book during the US presidential elections, which kept being a touchstone to how far women have come to be treated as human beings with agency and a reminder as to how quickly reactionary politics can assert itself.

The book includes a foreword by popular
Doctor Who
and
Star Trek
scribe,
Una McCormack
:
Representation matters. Sarah knows this, but, more importantly, she lives this. In her professional life, her commitment to equality and diversity has earned her recognition from her peers, and a 'gong' (a BEM, no less – yes, Sydney Newman would be horrified). In her writing, fiction and non-fiction, and her involvement with fandom, she has voiced and made visible lives and experiences that are too often ignored or denied: women who game, dykes who dig Time Lords. Doctor Who (let's face it) hasn't always been great at representation (where is our female Doctor?).

The cover was designed by
Lethbridge-Stewart
regular artist
Adrian Salmon
:
My initial idea was to confine all the various visual ideas within the overall shape of the Daughters of Earth' house. However after submitting my rough it was brought to my attention that the 'house style' for the Lethbridge-Stewart main range is a circular motif, which I had inadvertently created with my cover for Mutually Assured Domination in 2015. How ironic! I dropped the house shape into a circle allowing parts to break out for visual punch.

Sarah felt it beautifully illustrates her initial idea:
I love the cover that Adrian Salmon has painted for my book. So striking and bold, but yet it gets the central conflict for Sally: has she chosen her military career wisely? Or is there another path?

The Daughters of Earth
is available for pre-order now, either individually or as part of a discounted UK bundle (which includes the novels
Night of the Intelligence
by Andy Frankham-Allen, and
The Dreamer's Lament
by Benjamin Buford-Jones). Full details can be found via the
Candy Jar website
.
---
Candy Jar still has thirty copies of the novella bundles left.
The Life of Evans
has been posted out, but both
The Flaming Soldier
and
Day of the Intelligence
can be pre-ordered - these are only available directly from
Candy Jar Books
.