Note: this article includes items discussing future and potential future casting/plot points, and may be considered as spoilers.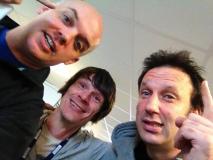 Filming has now commenced on episode six, the first episode of next year's run of episodes; it is written by
Steven Moffat
and directed by
Colm McCarthy
, with
Simon Dennis
taking up the reins as Director of Photography. The episode is provisionally entitled
The Bells of Saint John
.
McCarthy recently posted a photo featuring himself with two of this year's other directors:
"Directors UK Roath Lock branch meeting with Farren Blackburn and Saul Metzstein."
[Colm McCarthy via Twitter, 28 Sep 2012]
Rumours over the possible appearance of previous companions for the 50th Anniversary continue, fuelled by the usual "insider" gossip:
"Next year is massive for the show. They are going to be pulling out all the stops - the 50th anniversary show is set to feature stars from the past and present. There will be plenty of nods to the show's remarkable history and some old faces are likely to be reappearing. Karen and Billie are two of the Doctor's greatest companions and it's hoped they will be involved."
Other names being bandied around include former Doctor
David Tennant
and the Doctor's original travelling companion Susan as played by
Carole Ann Ford
.
[Express, 8 Oct 2012}
Downton Abbey actor
Thomas Howes
has his eye on being a future Doctor:
"There are a lot of dream roles I'd love, like James Bond and Indiana Jones. But I'd never get a look in there. Doctor Who is probably the only one that I could play because he's quite quirky – and he regenerates, so he can be anyone. So one day, who knows, I might have a chance. I'd love to play that part."
[The Sun, 6 Oct 2012]
When asked about possibly being the next
Katherine Jenkins
, actress
Jaye Jacobs
exclaimed that she'd love to sing in
Doctor Who
!
[Daybreak, 10 Oct 2012]
(with thanks to Ruther)