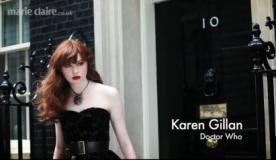 Karen Gillan
has been involved in a photo-shoot for fashion magazine
Marie Claire
in a project alongside
This is Great Britain
to place the UK's brightest stars in London's most historic locations. Karen appears in front of 10 Downing Street! Editor-in-chief Trish Halpin said:
"To be the first fashion magazine granted access to these amazing London landmarks was a real honour."
A
video of the shoot
is also available to watch.
[Marie Claire, 5 Sep 2012]
The actress has also paid for her father to record an album. She said:
"He's a singer, not professional, he just loves doing it. I got it as a Father's Day present. I'm thinking of doing a duet with him but he's far better than me."
[Daily Record, 4 Sep 2012]
Matt Smith
mentions one of his experiences in New York recently:
In New York, Karen and I walked into this 'Doctor Who'-themed bar. It shows the appalling limits of our vanity that we wanted to go to a 'Doctor Who' bar. But our curiosity got the better of us. You could have heard a pin drop when we strolled in."
[FemaleFirst, 3 Sep 2012]
Smith will be a guest on the Channel 4 chat show
Alan Carr: Chatty Man
on
Friday 21st September
at 10pm, according to a
tweet
by the programme's official Twitter feed.
Arthur Darvill
talks about his departure from
Doctor Who
, and onto new projects such as the West End show
Our Boys
:
"We all met up on Monday to do a publicity photoshoot for that, all in army gear. Everyone else had these really sharp uniforms and I was in cold weather gear, so I had a shirt, a polo neck, a jumper, a massive jacket on the hottest day of the year!"
[GT Magazine, Oct 2012]
A host of photos during rehearsals and further information on the play can be found via the play's
official Facebook page
.
The first episode of the two-part BBC Four adaptation of
Room At The Top
starring
Jenna-Louise Coleman
as Susan Brown is set to air during the week beginning
Saturday 22nd September
. The drama, which co-stars
Kevin McNally
, was made in 2010 and should have been broadcast in April 2011 but the BBC was prevented from showing it because of a copyright wrangle, which was finally resolved earlier this year. The day and time of transmission is yet to be confirmed.
[BBC Programme Information]
Alex Kingston
traces her family history in a forthcoming edition of
Who Do You Think You Are?
on BBC One. It is likely to be shown on
Wednesday 19th September
at 9pm.
David Tennant
discussed how important the works of Shakespeare are:
"I am on the board of the Royal Shakespeare Company and a huge part of what they do is education and outreach -- partly just to educate an audience for themselves but also just to teach that sort of language so kids can appreciate it. I think Shakespeare is one of those things that you get very excited about when you do it and when you love it and when you feel like you own that language. Often it's a difficult thing to teach to kids because it can feel like a slow and a difficult thing, but it can be really inspiring!"
[TheaterMania, 29 Aug 2012]
The actor has also donated a signed copy of the Complete Second Series of
Doctor Who
an auction on behalf of
The Alzheimer's Society
- potential bidders can find the item on Ebay
here
over the next eight days.
[Alzeimer's Society, 7 Sep 2012]
Digital Theatre
and
Routledge Publishing
have made theatre performanances from the
Routledge Performance Archive
online; amongst the shows available for download/rental is David Tennant's
Much Ado About Nothing
, which co-starred
Catherine Tate
.
[Standard, 6 Sep 2012]
John Barrowman
commented on gay representation on American television:
"America has the most gay men represented on television than any country in the world. The only thing I wish they would do more often is not stereotype those gay men and women. It's always the same type they choose. Rather than seeing camp, flouncy, girly men and butch heavy women, it would be nice to see other types. There are 'lipstick lesbians,' pretty girls. There are butch guys, guys who are into sports."
[Desert Outlook, 4 Sep 2012]
Eve Myles
has won the title role in the new six-part BBC One series
Frankie
, which will see her reunited with
Torchwood
director
Mark Everest
. The drama is described as
"a modern and redemptive take on the life and work of a dedicated district nurse [Frankie Maddox] whose patients matter more to her than her personal life."
Also appearing in it are
Dean Lennox Kelly
and
Derek Riddell
. Filming will take place in Bristol, where the series is set, with the drama due to air next spring.
[BBC Media Centre, 6 Sep 2012]
Former executive producer and current Head of Drama at Channel 4
Piers Wenger
has announced a new initiative to seek out original drama ideas for development on E4:
"This is an exciting first step in the development of a slate of new drama series for E4. There is a wealth of British drama talent out there and I am thrilled to be able to green-light a drama pilot season and invite new and established writers to come to us with their big ideas. In the last few years, E4 has established an unrivalled reputation for launching young, ground-breaking drama series and we are looking for a range of original drama ideas which will allow audiences to connect with the channel now. We don't want to be prescriptive on genre, format or length of episode - the aim is to see a variety of home-grown and innovative drama on E4 in 2013 and beyond."
[Televisual, 6 Sep 2012]