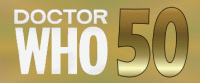 As the 50th anniversary of Doctor Who approaches, the first indication of special programmes to celebrate the milestone has surfaced with a recent advertisement by
BBC Careers
for a new producer, stating that a
"passion for drama and a knowledge of Doctor Who is essential,"
and that the applicant should preferably have knowledge of period drama.
The role is for a single drama on
BBC Two
, with the producer based at the new Roath Lock Studios in Cardiff Bay for a five-month term. Full details of the position included the following:
You will be producing high-quality, cost-effective drama and will be accountable for the delivery of the drama on time and within the agreed editorial brief and production budget. One of your main responsibilities will be to help develop the script to the highest standards as well as encouraging, fostering and developing creative talent and ability on behalf of the Drama Department.

You will need drama-producing experience. A passion for drama and a knowledge of Doctor Who is essential.

Ideally the successful candidate will have a wide-ranging knowledge of the television drama production processes, preferably including period drama and use of CGI, and an understanding of the jobs of programme and resource personnel who are engaged to complete the production.

No other details of the post are known at present, but "docudramas" following iconic careers and film/TV developments have become common in recent years. The possibility of
Doctor Who
becoming such a subject was broached on
The Graham Norton Show
back on 11th February, when actor/writer
Mark Gatiss
was asked if he was involved in such a project - to which he avoided a direct answer to the question and said
"I'm writing on the back of my hand, now, what a good idea that would be!"
Gatiss previously contributed to 1999's
Doctor Who Night
on BBC2, including a spoof documentary on commissioning the series,
The Pitch of Fear
.
Applications for the
role
closed on Wednesday.
(with thanks to Ruther)