United Kingdom

Nick Briggs
,
Simon Guerrier
,
Peter Anghelides
, and
J T Colgan
will be lending their authorial talents to
Doctor Who
creative writing workshops at this year's
Winchester Festival
. Aimed at youngsters, the workshops will be held at the city's Discovery Centre on
Saturday 7th July
from 9.30am to 4pm.
Daleks invaded
Yeovil
as part of the 10th-anniversary celebrations for Yeo Leisure Park. As well as full-size Daleks on show, the charity event also included remote-control Dalek racing. In addition, visitors could see a Cyberman, Scarecrow, Sontaran, K-9, and a TARDIS.
[This Is Somerset and The Mary Sue, 19 Apr 2012]
A Dalek had to be manhandled by four people over a roof to get it into a house in
Shrewsbury
. It was bought by fan
Andrew Morris
from a children's hospice in
Barry Island
but when it arrived it proved too big to get through the front door so an alternative entrance had to be figured out – needing extra manpower and some levitation!
[Shropshire Star, 25 Apr 2012]
A group of pupils in
Guildford
who entered the
Script To Screen competition
may not have won the contest but
Steven Moffat
was so impressed by their work that he decided to send them goodie bags of
Doctor Who
items anyway. The entry by the trio from Holy Trinity Pewley Down made it to the final ten. All scripts had to have an Olympic theme, and the one from Holy Trinity Pewley Down saw the Doctor, Amy, and Rory on an alien planet resembling ancient Greece but where the statues turned out to be Weeping Angels. The overall winning school is yet to be named.
[Get Surrey, 26 Apr 2012]
The newly-opened
Wales Coastal Path
gives people the chance to see famous filming locations along its 870 miles, including
Portmeirion
, which was used for
The Masque of Mandragora
, and a number of south Wales settings for the revived series. The BBC has uploaded a
slideshow
of various locations along the route.
Clothes and personal belongings donated by
John Barrowman
to the
Dogs Trust
have raised more than £200. We reported
in March
on the gift to the charity following a spring-clean by the actor, and when the items went on sale at its
Cowbridge
branch they attracted huge interest, with one fan even travelling some 180 miles from
Nottingham
to spend £600.
[Barry and District News, 18 Apr 2012]
Genuine police boxes have gone on sale in
Edinburgh
. A total of 22 of the two-tonne constructions are available and no price has been set on them, with offers being accepted until midday on
Thursday 31st May
. A sales fee of £100 will, however, apply to each box. Designed by Ebenezer MacRae in the 1930s, they differ in appearance to the TARDIS ones, which were designed by Gilbert MacKenzie Trench for the Metropolitan Police in 1929. Buyers will have to remove them or get planning permission and change their colour if they want them to stay in situ.
[BBC News, 30 Apr 2012]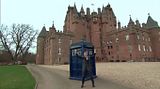 CBS TV host
Craig Ferguson
has taken his
Late Late Show
to his native country of Scotland. A week of programmes, which see Ferguson exploring
Edinburgh
, his birth city of
Glasgow
, and his home town of
Cumbernauld
, were recorded in March -
pictured right
- and will start airing on
Monday 14th May
.
[Associated Press via Yahoo! News, 16 Apr 2012]
The
Big Lit Day
book festival in
Gatehouse of Fleet
on
Saturday 26th May
will see
Annette Badland
make a special guest appearance. She will be giving a reading from
The World's Wife
, a collection of poems by Poet Laureate
Carol Ann Duffy
that imagine wives' perspectives of famous men. The event is part of the
Dumfries & Galloway Arts Festival
.
[Dumfries & Galloway Standard, 27 Apr 2012]
USA

A Dalek popped up on the roof of MIT's Stata Center, housing the Computer Science and Artificial Intelligence Laboratory, in
Cambridge, Massachusetts
. The appearance follows in the footsteps of the TARDIS
a couple of years ago
!
[Lezgetreal, The Daily What, 28 Apr 2012]
In
March
we told of an appeal made by
Tashi King
for a TARDIS urn for the ashes of her terminally-ill husband,
Kevin Pratt
, when he dies. They have now received just such an urn and have uploaded a video thank-you message. (NB: The video contains
Battlestar Galactica
-style expletives and one other expletive.)
[washandtashiblogspot, 24 Apr 2012]