Last week saw the final scenes recorded on location for the characters
Amy
and
Rory
, aka
Karen Gillan
and
Arthur Darvill
- the latter who comes 'full circle' as the location at St. Cadoc's Hospital in Caerleon was where he filmed his first day on location back in 2009!
Their last scenes to be filmed come from the penultimate episode for the Ponds, the fourth of the next series. Their departure on screen will be in the following episode, the fifth, which was recorded last month. After the final shots were completed Karen Gillan
tweeted
"And that's a wrap! Bye bye from the ponds. We love you."
The final scenes were observed by several of the production team past and present, including lead writer
Steven Moffat
and former executive producers
Piers Wenger
and
Beth Willis
, with a party taking place afterwards to celebrate.
Another 'closure' took place on Friday, with the final day's production at Upper Boat. The studios, located in Pontypridd just outside Cardiff, have been home to Doctor Who since the third series and have also been the base for
Torchwood
and
The Sarah Jane Adventures
. The complex was the first BBC studio centre totally dedicated to drama, and was set up in the wake of the success of Doctor Who following the series' revival in 2005. Production will now continue in full at the new purpose-built studios at Roath Lock in Cardiff Bay.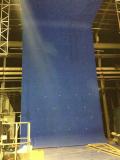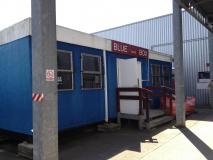 Photos: BBC Doctor Who / Facebook, 11th May 2012
With Karen and Arthur's final scenes recorded, the "handover" to new girl
Jenna-Louise Coleman
will begin filming shortly, though as with previous introductions her first story to be recorded may not be her first story on screen!