AudioGo
have released details on audio titles in their spoken word range due to be released in April. The Doctor and Mel go in search of a pool but are instead appalled when they arrive at
Paradise Towers
. Meanwhile, Sgt. Andy Davidson has to deal with an alien virus without the aid of Torchwood in
Fallout
.
Both are released on 5th April on CD, or by download from
AudioGo
from the 1st April.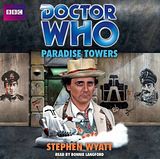 Paradise Towers
Written by Stephen Wyatt
Read by Bonnie Langford
Released 5th April 2012 (CD)
(pre-order)
Much in need of a holiday, Mel and the Doctor head for Paradise Towers: a luxury man-made planet with sparkling fountains, sunny streets, exotic flowers and a shimmering blue swimming pool.
But when the TARDIS materialises in a dark, rubbish-filled, rat-infested alley it seems that this particular Paradise has turned into Hell!
Pursued by rogue cleaning machines, authoritarian caretakers and old ladies with strange eating habits, the Doctor and Mel track down the source of the chaos to one mysterious character – the designer of Paradise Towers, the Great Architect himself...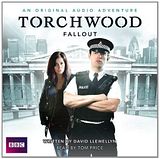 Fallout
Written by David Llewellyn
Read by Tom Price
Released 5th April 2012 (CD)
(pre-order)
When Yasmin finds a jewelled egg in her grandfather's shed, her first thought is to sell it. Unfortunately, the object is no valuable Fabergé antique, but a dangerous weapon from another planet. Worse still, the buyer she finds online is a Russian secret agent working for the Committee for Extraterrestrial Research, who promptly swipes it, kills her brother Sayed and lands her in hospital.
When Sgt Andy Davidson realises that he's not dealing with an ordinary double shooting, he calls Gwen Cooper, who breaks the bad news about the egg and its deadly contents. With no Torchwood to help,and Gwen in America, it's up to Andy and Yasmin to follow the trail of the 'Shiva virus' – all the way from Cardiff to the British Museum...