AudioGo
have released details on audio titles in their spoken word range due to be released next month, with the Eleventh Doctor, Amy and Rory continuing their adventures in
Darkstar Academy
and Gwen and Rhys embroiled in post-Miracle Day shenanigans in
Army of One
. Plus, the new novelisation of Shada,
reported last week
.
Darkstar Academy
Written by Mark Morris
Read by Alexander Armstrong
Released 8th March 2012 (CD)
(pre-order)
When the TARDIS is buffeted by 'time slippage', the Doctor experiences a terrible vision of the end of everything. Tracking the source of the disruption, he takes Rory and Amy to what appears to be an English public school in the 1950s.
But as the friends are about to discover, there are some very unusual things about Darkstar Academy. For a start the prefects carry guns, and then there is the strange forcefield that surrounds the perimeter. Not to mention the foot-long, crab-like creatures with spiny, armoured bodies...
When the Doctor learns the truth about the Academy, he also discovers that the whole place is in terrible danger. But with a swarm of creatures on the loose, what can he, Amy and Rory do to help prevent a terrible disaster?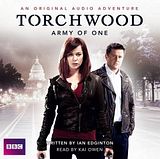 Army of One
Written by Ian Edginton
Read by Kai Owen
Released 8th March 2012 (CD)
(pre-order)
Washington D.C., post-Miracle. The city has been hit by a spate of very unusual serial killings.
The victims are different ages and genders and the locations vary, but each body has one thing in common – it has been reduced to a dried-up, desiccated husk.
Special Agent Lucas Avery has dealt with some tricky puzzles in his time, but this is stranger than anything he has ever encountered. His one lead is a pair of names: 'Gwen' and 'Rhys'...
For Gwen Cooper and Rhys Williams, still recovering from the recent, traumatic events that shook the world, life is about to get difficult and dangerous again. For it's not just Homeland Security on their trail, but something else – something alien, terrifying and deadly...