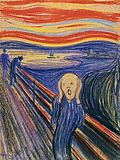 It's said that truth is stranger than fiction, and in a case of life imitating art (in more ways than one), two iconic paintings with very close connections to
Doctor Who
have been hitting the headlines.
Firstly, one of Edvard Munch's four versions of
The Scream
- which was a major influence on the design of Series 6 monster
The Silence
- is to be exhibited in the UK before being auctioned in the USA by
Sotheby's
.
It will be on display in London from
13th April
and in New York from
27th April
, with the auction taking place on
2nd May
, when it is estimated it could fetch more than £50m ($80m).
This version - dated 1895 and the only one to still be in private hands - is a pastel and is in the original frame that was hand-painted by the Norwegian artist. It also includes a poem by Munch explaining what inspired his masterpiece.
The Scream
is reckoned to be the second-most recognisable image in art and popular culture after the
Mona Lisa
by Leonardo da Vinci - and by a funny coincidence another version of
that
particular masterpiece has
also
been causing a huge stir in the art world.
The globally famous portrait - also titled
La Gioconda
- was a major plot point of the Season 17 story
City of Death
. Now a copy of the picture - reckoned to have been painted by one of Leonardo's apprentices at the time of the original - has been restored and displayed at the
Prado Museum
in Madrid, where it will stay until
13th March
, after which it will be moved and hung next to Leonardo's original at the Louvre in Paris for an exhibition.
---
As reported previously
, photographic portraits of
David Tennant
and
Karen Gillan
can still be seen in the
Hot Scots
exhibition at the
Scottish National Portrait Gallery
in Edinburgh. This display runs until
1st April
.
Tennant is also among the actors featured in backstage theatre photographer Simon Annand's exhibition
The Half
at the Idea Generation Gallery in Chance Street, London. The display takes its name from the half-hour before curtain-up, when actors are left by themselves to focus on the performance ahead of them. Also pictured at the gallery are
Michael Gambon
,
Carey Mulligan
, and
Mark Gatiss
. The exhibition opens tomorrow and runs until
8th April
, with the opening times 10am to 6pm Mondays to Fridays and midday to 5pm Sundays.