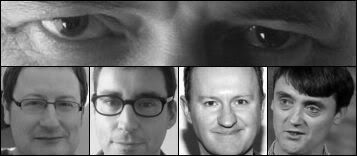 The writing team for the next series of
Doctor Who
sees the return of two of the Matt Smith era's established contributors.
The new issue of
Doctor Who Magazine
(on general release from tomorrow) reports that
Chris Chibnall
and
Toby Whithouse
form part of the team under the watchful gaze of lead writer
Steven Moffat
. Chibnall contributed to inaugural Matt Smith series with the two part
The Hungry Earth
/
Cold Blood
, with Whithouse writing for both that first series with
The Vampires of Venice
followed by last year's
The God Complex
.
The two join the
unconfirmed writers
Mark Gatiss
and
John Fay
. Gatiss was responsible for the eleventh Doctor's first encounter with his old enemies in
Victory of the Daleks
, and last year's
Night Terrors
. This new series will be Fay's first script for
Doctor Who
, having written previously for
Torchwood
's
Children of Earth
and
Miracle Day
.
Though there has been no formal announcement over how the series will be structured,
Whithouse was a guest at last weekend's SFX Weekender
, mentioning that his script was currently planned as the third episode - though the story order is not necessarily set in stone, as seen with
Night Terrors
and
Curse of the Black Spot
last year.
Rehearsals for the new series begin next week (at least for Matt Smith!).