The new BBC Drama Centre in Cardiff, the future home of Doctor Who, has opened for business.
The BBC's internal magazine
Ariel
reports that the purpose built studio complex at
Roath Lock
on Cardiff Bay is ready for business just fourteen months after construction started and nine months after the topping out ceremony, making it one of the quickest builds in the history of the BBC. The building is part of the BBC's desire to move 50% of its budget outside London with Cardiff being designated as a centre of excellence for drama, mostly because of the success of
Doctor Who
,
Torchwood
and
The Sarah Jane Adventures
.
Casualty
is the first programme to move in and began filming at the site today, Friday, after the programme transferred from its previous base in Bristol. It will be joined in the next few weeks by the Welsh soap opera
Pobol y Cwm
which will enjoy a 360 degree set with nine walk in sets.
Upstairs Downstairs
will also be filmed in the centre where 1930's London is currently being recreated in three studios ready for the six part series to start filming in a fortnight.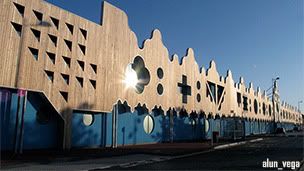 The studios will be officially opened in March when
Doctor Who
relocates to the centre from its current home at leased studios in Upper Boat, Pontypridd, ready for filming the 33rd series of the show. The studio complex is owned by the Welsh Goverment and leased to the BBC under a 20 year deal for around £1.35m per year. It features the biggest BBC Studio in the country and what is believed to be the largest green screen facility in Europe. In total there are nine studios and three external lots. Because of the coastal nature of the site Hawks are being employed to keep the lots free of Seagulls.
The building's exterior has been designed to represent the key shows which will be occupying it. First Aid crosses for Casualty, silhouettes of hills and floral cut-outs for Pobol y Cwm, and sci-fi gothic for Doctor Who.