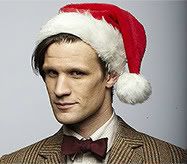 As the public settled down to watch
Doctor Who
, the production team were anything but - they were spotted out and about in Cardiff Bay last night filming for the Christmas installment!


THE FOLLOWING DETAILS ARE ABOUT FILMING AND MAY BE CONSIDERED AS SPOILERS





Filming returned to Bute Esplanade at Cardiff Bay, a place which had seen the TARDIS crew previously disturbing the neighbourhood on 1st March, and only broadcast that very evening as Amy and Rory's new home in
The God Complex
.
Karen Gillan and Arthur Darvill were attendance at their 'home' (with the current
Doctor Faustus
actor commenting on
Twitter
on losing his beard!). Matt Smith was also on location, with the trusty TARDIS parked up across the street from the house.
Christmas decorations adorned the street, and filming involved the Doctor turning up on the doorstep; snow was also being provided for the short scene which is believed to be set during New Year celebrations.
(with thanks to Vicky Williams on Twitter)