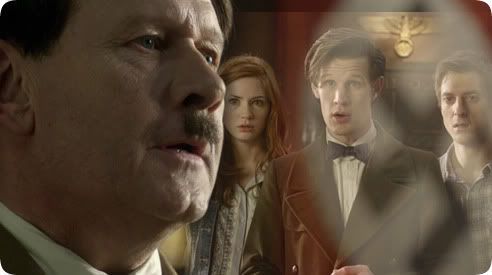 As
previously reported
,
Let's Kill Hitler
sees its premiere on BBC1/BBC1HD between
7:10-8:00pm
on Saturday 27th August, as confirmed by both the
BBC Press Office
and
Radio Times
websites, with the behind-the-scenes programme
Doctor Who Confidential
to follow straight afterwards as usual on BBC3, 8:00-8:45pm.
The Hitler theme continues on BBC2 after
Doctor Who
with
Adolf Hitler vs Hans Litten: To Stop a Tyrant
(8:00-9:00pm), a documentary that explores the story of Hans Litten, a young Jewish lawyer who challenged Hitler – and paid for it with his life. This documentary accompanies a BBC film about Litten to be shown this coming Sunday (21st, 9:00-10:25pm) on BBC2,
The Man Who Crossed Hitler
.
Radio Times:
The Doctor's frantic search for the infant Melody Pond takes him to 1930s Berlin, where he comes face to face with the most notorious war criminal in the universe. With conflict brewing in the background, the Time Lord prepares to teach his enemies that time travel comes with its fair share of responsibility.


BBC Press Office:
In the desperate search for Melody Pond, the TARDIS crash lands in Thirties Berlin, as the time-travelling drama returns for the second half of the series shown earlier in the year.

The Doctor comes face to face with the greatest war criminal in the Universe. And Hitler.

Old friendships are tested to their limits as the Doctor suffers the ultimate betrayal and learns a harsh lesson in the cruellest warfare of all. As precious time ebbs away, the Doctor must teach his adversaries that time travel has responsibilities. And he must succeed before an almighty price is paid.


The BBC have now released a video featuring

Karen Gillan

discussing some of Amy and Rory's development during

Let's Kill Hitler

, plus two preview clips from the episode itself.

Karen Gillan discusses Let's Kill Hitler, BBC, via the BBC Doctor Who Site (may not be available outside the United Kingdom)

Let's Kill Hitler: Preview Clip 1, BBC, via the BBC Doctor Who Site (may not be available outside the United Kingdom)

Let's Kill Hitler: Preview 2, BBC, via the BBC Doctor Who Site (may not be available outside the United Kingdom)