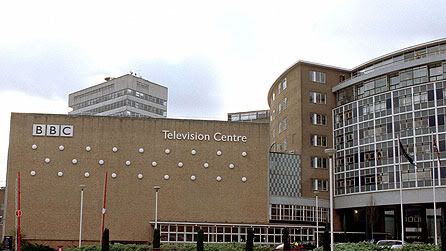 The
BBC
have moved to the next stage of their disposal of London's
Television Centre
today with an
announcement
that the site has formally been placed onto the market.
Chris Kane
, the Head of BBC Workplace, said:
Our key objective is to maximise value to the BBC. With high investor demand for commercial property in London and a shortage of landmark sites as distinctive as Television Centre, we anticipate strong competition for both conventional and innovative proposals.
Television Centre is seen by many as the 'home' of the BBC and the source of many successful series over the decades since its opening in 1960, including of course
"classic Doctor Who
"; however, the Corporation has been planning the sale of the site since
2007
, citing the need to
"reduce the property portfolio"
in order to
"deliver a smaller but fitter organisation."
Today,
Richard Deverell
, W12 Programme Director, commented:
Television Centre has played an extraordinary and central role in the history of the BBC, which will not be forgotten. Our primary aim of the sale is to maximise the value to the BBC and Licence Fee payer whilst ensuring the teams and operations based there are successfully relocated.
Last year
, the BBC's in-house magazine
Ariel
reported that the partially listed landmark
"could form the centrepiece of a community of media organisations, performing arts groups, facility providers and even fashion houses."
Today, the press release re-iterated that
"apart from a conventional sale, the Corporation is keen to investigate opportunities for redeveloping Television Centre that preserve the key listed elements of the iconic building, but also afford the opportunity to establish a hub for creative businesses and a visitor destination."