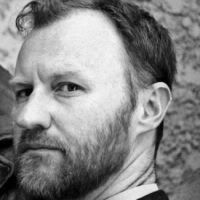 It has been reported that
Mark Gatiss
will be appearing in episode thirteen of
Doctor Who
, the finale of the second half of the current series due to be broadcast later in the year. The news comes as part of an interview with one of his co-stars, interviewed by
Cultbox
(note: the link contains a number of possible spoilers for A Good Man Goes To War as well as episode thirteen)
.
Gatiss was
previously announced
as one of the writers for this series, with his script - directed by
Richard Clark
(
The Doctor's Wife
) - originally slated as episode three before being moved into the second half as episode nine.
Earlier contributions to the series include the scripts for
The Unquiet Dead
,
The Idiot's Lantern
and
Victory of the Daleks
, plus an appearance as Professor Lazarus in
The Lazarus Experiment
; he also provided the uncredited voice of "Danny Boy" in his Dalek tale. He was the narrator for the second series of the behind-the-scenes programme
Doctor Who Confidential
.
He is one of the few people to contribute both behind and in front of the camera for
Doctor Who
.
(with thanks to Will Martin/Cultbox)