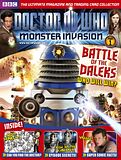 The first issue of the new partwork magazine,
Doctor Who Monster Invasion
, is launched today by
BBC Magazines
.
Based around collectible trading cards, the first issue comes with two packs, the first of a three-part poster, and a "mega Battle Zone play mat". The issue will be available for three weeks (the magazine is fortnightly), with the second and third issues coming with a TARDIS cardholder for the collection.
There is also a subscription offer which can be taken up online via the
Monster Invasion website
. Subscribers get additional gifts over the course of their subscription, including additional card packs, box file and swaps box, squirty sonic screwdriver and a backpack.
The website also includes further information relating to the magazine, plus exclusive games and features which can be 'unlocked' using codes published in the magazine itself.
---
Editor
Annabel Gibson
has
provided more details
on what is seen to be the 'first wave' of the collectible trading cards: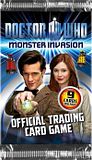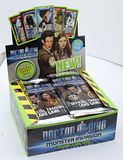 Every issue features a new card game, a top 10, a gadget guide, website info, a where's the Doctor? picture puzzle (think Where's Wally? meets Doctor Who but even better!) and an episode guide. As we know our readers absolutely love facts, the DWMI partwork collection also builds into a complete A-Z of aliens and includes a huge pull-out slamdown poster, where the scariest monsters go head-to-head!
There are 165 cards to collect in set one, including stinky scratch 'n' sniff cards, shiny foil cards, a moving lenticular and special augmented reality cards that allow you to see the Doctor, his TARDIS, and some of his most fearsome foes come to life on your hand in 3-D. Seeing a 3-D Dalek levitate off your hand for the first time is something you'll never forget, I guarantee!
There are 52 fortnightly issues to collect, though you can also buy the (nine) card packs separately at retail. Also don't miss our collector tins, which contain a special edition mystery card!
Annabel also commented that the 'second wave' is already in preparation:
My team is already working on set two, which features 180 new cards to tie in with the second half of series 6 of Doctor Who, broadcasting in the autumn. But for now, as the Doctor would say, Geronimo!
The magazine is also being promoted through an advertising campaign including television adverts.