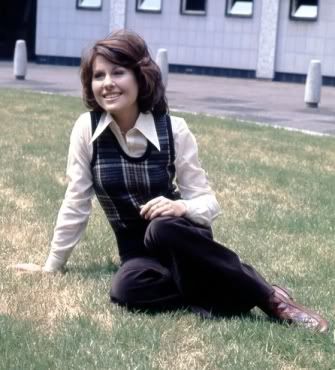 With the sad news of the death of
Elisabeth Sladen
still raw in many people's minds and so difficult to comprehend, many fans around the world have been making their own tributes to a woman who was such a central part of so many childhoods.
British folk singer
Talis Kimberley
has recorded her own tribute,
Goodnight Sarah Jane
, available as a download from her website. Kimberley says "this is my tribute to the actor Lis Sladen. Along with many other people I was desparately saddened to hear of her death; her portrayal of Sarah-Jane Smith was an inspiration during two periods of my life."
Other tracks released include
Companion
by Parralox and
What's the Story Sarah Jane
by New Magnet.
The tribute page in
Gallifrey Base
now stands at over 2000 posts and a special
thread
has been setup where fans can post their own artwork. Meanwhile a whole new generation of fans have been expressing their sense of loss on the BBC's
Newsround
page, which has had its biggest response ever to a story covered on the site. Some of the messages from children are read out by the co-stars of The Sarah Jane Adventures,
Tommy Knight
and
Daniel Anthony
, who are mourning the loss of the woman they called their "Mother Hen, ...always smiling, always laughing".
Many fans have made their own tribute videos which can be found on YouTube.
Dork Tower
, the online comic, has also produced its own cartoon in tribute.
A group of fans have launched a
JustGiving
site raising money for the charity Cancer Research UK, in memory of the actress. To date over £3000 has been raised. Other fans have been donating to the
Lymphoedema Support Network
, which was understood to be a charity the actress supported. A
JustGiving
site has been set up to buy an imaginary pint to toast Sarah Jane.
The BBC's programme in memory of Elisabeth Sladen,
My Sarah Jane
, which contains contributions from many of those who worked with her, can be seen in the UK on CBBC at 6.45pm Saturday, directly after Doctor Who finishes on BBC One.
News links: Obituary, Doctors pay tribute, Elisabeth Sladen Tributes, Press Roundup