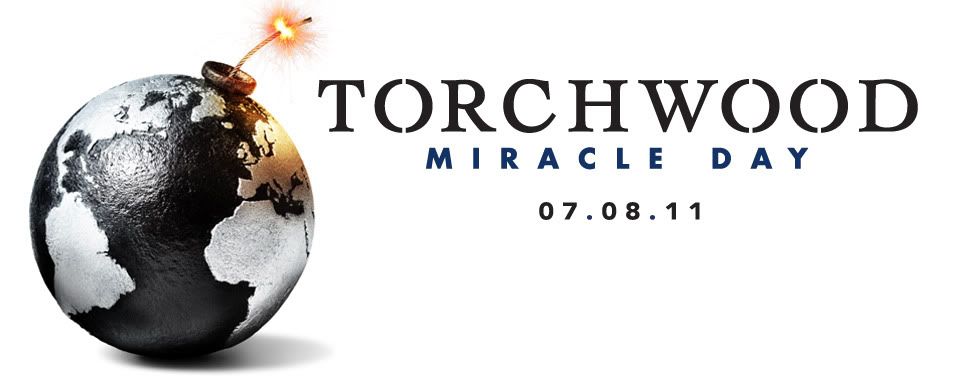 Promotion for the series has begun in the United States, with
Starz
broadcasting a teaser trailer on their channel over this weekend; this coincides with the launch of their official
Torchwood site
. The teaser is also
available on their website
- however, this may only be viewed by those within the United States (though may be watched globally via
io9
).
Additionally, some clips from the series formed part of a promotional showreel for Starz shows.
The clips include Rex firing a machine gun from the back of a jeep on the beach in Wales, an explosion behind Gwen, Jack brandishing a gun, and Gwen holding a rocket launcher over her shoulder.


Since
Starz
announced the launch date in the United States for
Friday 8th July
,
UKTV
have now
confirmed
that they will bring the series to
Australia
immediately afterwards - this suggests the weekend 9th/10th July. The United Kingdom premier is also widely expected for that weekend, too, though BBC schedules are unlikely to be confirmed until around a fortnight before broadcast.
However, those subscribing to the streaming service
Netflix
are unlikely to be able to see the show immediately, as a change of policy by Starz that comes into operation today means that their output will be delayed for some ninety days before being made available (see the
LA Times
for more details).
Production-wise, filming this week included scenes for episode seven, with a return to the
Willow Studios
and surrounding areas, as well as on the
Warner Bros
lot. The series is being recorded in a way to enable it to be "printed" in an optimised form for transmission in any country it is sold to. Director of Photography
Nathaniel Goodman
explained:
"We're shooting on the Arri Alexa, recording 4444 that will be broadcast Rec709 1080 HD."
.
The BBC Production Office also
reported on Thursday
that the music for this series would be undertaken by
Doctor Who
's stalwart composer,
Murray Gold
- he wrote the original theme for the series, and contributed to a number of earlier episodes of the series.
---
Times cited within reports below are in Los Angeles local time, except where indicated






Key to initials: AF - Allyson Floyd (stand-in); BBC - BBC Torchwood (production office); CDA - Cris D'Annunzio; DE - Doris Egan; JE - Jane Espenson (writer); KO - Kai Owen (Rhys); ST - Shawna Trpcic (costume designer); TP - Tom Price (Andy)


---
Week Thirteen sees the publicity campaign begin in earnest, with
BBC Worldwide
promoting the series at the
Cannes MIPTV 2011
event; the presentation will also include both
John Barrowman
and
Bill Pullman
there to promote the new series (see the
press release
for full details). It is expected that the publicity photos taken over the last few weeks will be released shortly after the event!