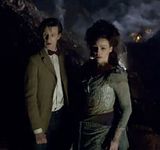 Doctor Who Magazine
have
confirmed
the title of
Neil Gaiman
's
Doctor Who
episode. Episode 4 of the new series, which guest stars
Suranne Jones
(Mona Lisa,
Mona Lisa's Revenge
) as Idris and
Michael Sheen
, will now be called
The Doctor's Wife
.
There had been speculation of the title on a number of fan sites and this evening
SFX
was given permission by the BBC to reveal the title.
Speculation began yesterday when
Steven Moffat
Tweeted
to Gaiman:
Ohh, just watched your one again! It's really good, isn't it? And look who it is! LOOK WHO IT IS!!!
Today, Gaiman
told
his Twitter followers:
Yes, Doctor Who Ep 4's title has made it onto the internet. Because the title is a spoiler, I will let you find it yourself.
Edward Russell
, Senior Brand Executive for Doctor Who
Tweeted
in reply to Gaiman:
in retrospect, we should have hung on until Friday [April] 1st... Then no one would have believed us!"
Director of the episode,
Richard Clark
was
surprised
to have learned that the episode title had been released so soon:
Ep4 title is out there. How is that possible?
[adding]
The title was only signed off a couple days ago. Anyone know what date Ep4 is transmitted?
Gaiman told
Doctor Who Magazine
:
Idris is someone who is beautiful, and who bites, and who might just turn out to be an old acquaintance with a new face... [adding] it starts in void-space, with something – or someone – we have not seen since The War Games, and a knock on the TARDIS door...
Steven Moffat described the episode as:
a beautiful poem of an episode" and says that Suranne Jones "will change the way you see Doctor Who forever forever – and that's a hand-on-heart promise.
The Doctor's Wife
was originally used as a fake title by
John Nathan-Turner
to discover possible leaks in the production office back in the 1980s.