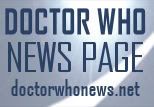 We have successfully completed our migration to our new home for the
Doctor Who News Page
,
doctorwhonews.net
!
The site can now be bookmarked under it's new identity,
www.doctorwhonews.net
, though any references to the old domain should redirect automatically to the new one (including those that still refer to doctorwhonews.com).
As noted in our
original announcement
, the news feed address has now changed, too. You can pick the new feed up directly from
here
, or by using the "Subscribe" button on the sidebar. The feed is populated with our most recent articles.
The only known issue at present is the news search facility which may not pick up new articles for a few days. We believe that all other facilities are functioning okay - however, if you do find anything else that isn't working on the site then please let us know through our
feedback address
.
(please note previous article recommendation links have reset due to the change of domain - feel free to re-recommend your favourite articles!)