Casting directory
Spotlight
have listed a few more actors cast for the currently filming
Torchwood: Miracle Day
.
First up, actor
William Thomas
is returning to the show playing Gwen's father Geraint Cooper - he previously appeared in series two's
Something Borrowed
at Gwen's wedding alongside
Sharon Morgan
as Gwen's mother Mary (at the time of writing she is not currently credited for filming). Interestingly his entry says that he is a "Series Regular".
Since his previous appearance in Torchwood, Thomas continued his role as Will James in
Belonging
, and in other Welsh series including
Gari Tryfan
,
Ar Y Tracs
and
Alys
.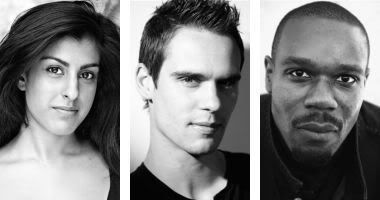 Lena Kaur
is credited as Dr. Alicia Patel; the actress is best known as regular character Leila in
Hollyoaks
, and most recently appeared in the television show
Speechless
and film
The Endz
.
Actor
Danny Szam
is listed as a character named Surveillance; he has appeared in Channel 4's
Skins
, and had a flurry of medical-related appearances in
Doctors
,
The Royal
and
Casualty
!
Finally, actor
Daniel Adegboyega
is listed as playing a guard in the series; his CV includes appearances in
Spooks
and
The Bill
.
---
Writer
Jane Espenson
confirmed that the ten episodes of the series will have individual episode titles (like series one and two). She is penning episodes three, five, seven and eight (the latter co-written with
Ryan Scott
), with
Russell T Davies
responsible for the series opener and finale,
Doris Egan
handling episode two, and
John Shiban
for episode six. This just leaves episodes four and nine to be revealed.
Episode one is being directed by
Bharat Nalluri
, and episode two by
Bill Gierhart
; both are working with
The Sarah Jane Adventures
producer
Brian Minchin
for filming in the United Kingdom, which itself sees expanded filming taking place over the next few weeks (with filming believed to cover several episodes for the series).
Russell T Davies and Julie Gardner at filming on 25th January
Photo courtesy of the Torchwood! Facebook group
This week has seen varied locations being used, including Cardiff International Airport and Rhossili Bay. The
South Wales Evening Post
caught up with
Russell T Davies
at the latter location, where he spoke about bringing the show back into the UK:
There are so many good locations in Wales, and I love coming back to Swansea. I'm immensely proud of where I'm from and quite like the opportunity to show places like Rhossili to the world.
It's a sort of national trait of Wales that we tend to be very proud of where we are from, yet don't sing our praises enough.
I'm quite excited that Torchwood will hopefully introduce Wales to people who have never seen it before.
There have been a number of episodes of Doctor Who and Torchwood which have been filmed in Swansea, and I plan to keep that up. I don't think I'll ever run out of places to film here because there are so many great ones.
One thing I've quite enjoyed is the little jokes in the show about Brits feeling lost in America, and Americans not knowing where Wales is.
A more detailed report on filming will appear on the Doctor Who News Page at the weekend.