The TARDIS has returned to
Portmeirion
for the Christmas period! Talking to the
Daily Post
, Estates Manager
Meurig Jones
said: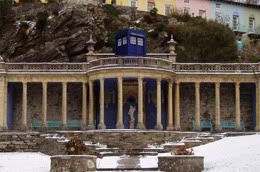 This is not the first time we have had a visit from the Tardis at Portmeirion. An episode was filmed here in 1976 when Tom Baker was the Doctor, called Mask of the Dragon
(The Masque of Mandragora)
.
We hope that Doctor Who fans will come and have a look at the Tardis and take in the sights at Portmeirion.
Portmeirion is popular with visitors during the winter months, and we have a Santa's grotto too. Who knows we may even see some Daleks or Cybermen around as well!
The police box will be on-site until the 3rd January 2011.
Meanwhile, the
Lynn News
reports that another police box is materialising in King's Lynn today, as part of a local police "Town Talk" event to provide information and advice to people in the town's
Vancouver Centre
.
As
reported last week
, some twenty-two police boxes were seen packed onto lorries, off to a mysterious destination.