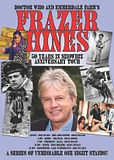 Actor
Frazer Hines
brings his touring one man show to the UK this Autumn.
Hines, who played Jamie alongside second Doctor
Patrick Troughton
has previously performed his show on cruise ships travelling everywhere from the Mediterranean to Norway. He now gives fans in the UK a chance to hear of his earliest performances with Charlie Chaplin, Michael Caine, Omar Sharif and Michael York and listen to his entertaining and heartwarming stories of the highs and lows of his long running career.
Five dates have been scheduled for 2010, however it is hoped to extend the tour through 2011.
Frazer Hines will also be appearing as Wishee Washee in Aladdin at
The Lighthouse Theatre
in Kettering Conference Centre from Friday 10 December - Sunday 26 December 2010.
When Aladdin arrives at The Lighthouse Theatre in Kettering this pantomime season, expect a fantastic musical Show full of festive family fun in colossal quantities – with bucket loads of boos and hisses, huge doses of heckling 'he's behind you', panto dames, and maybe even a wish or two from the Genie of the Lamp.

Opening on Friday 10th December and continuing until Sunday 26th December, more than 25 festive performances are in store for audience members at The Lighthouse this year.

Expect to see a flying magic carpet, marvel at a host of magic tricks, watch out for Abanazar (played by DAVID VAN DAY – the man we all love to hate!) and Widow Twankey's shenanigans. Join Aladdin on his journey from rags-to-riches – defeating the evil Abanazer and winning the heart of the beautiful princess along the way.

With a live band and a host of other familiar faces, this year's pantomime cast promises good old fashioned family entertainment fit for all ages, a trip to The Lighthouse shouldn't be missed.