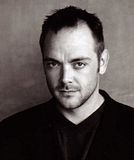 The US convention
ValleyCon 36
have reported that the actor
Mark Sheppard
has had to pull out of their event this weekend due to new work commitments on Doctor Who. Their
press release
states:
We had just booked Mark's airline tickets a week ago when less than 12 hours later he got the dream job of any kid who grew up in England-and many kids here too. He landed a huge role in the new Dr. Who but they needed him there the next day. There was no way we were going to stand in the way of that and so Mark took the job but with his deepest apologies. We will try to work out an appearance with him in the future and wish him great luck with Dr. Who!
As the release states his start last week, this suggests that he will feature in the series opening two-parter, which began shooting this week under the helm of director
Toby Haynes
.
Sheppard has appeared in a number of high profile science-fiction shows of late, including
Supernatural
as Crowley,
Battlestar Galactica
as Romo Lampkin, and
Warehouse 13
as Benedict Valda.