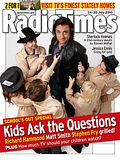 Both
Matt Smith
and
Steven Moffat
are interviewed in the new edition of Radio Times.
In a "School Holidays" special issue of the magazine, Smith is interviewed by Jack, 13:
What makes you different from previous Doctors?
- I'm younger, so my skin is a bit smoother. What would you say makes me different? Bigger ears?
You're crazier.
- There you go, I'm crazier.
How many marks out of ten would you give yourself so far?
- That's a tough one. Let's say eight. I've two episodes left, so I can still get to ten. I don't want to undersell myself.
We don't often see the Doctor eating anything. My favourite food is sausage and mash. What's yours?
- Spaghetti bolognese, banana sandwiches. I love biscuits with tea and am partial to a chocolate muffin or two.
And also in the magazine, Doctor Who Executive Producer and Lead writer Steven Moffat writes about his new project Sherlock:
When I was a little Beano-reading Doctor Who fan – about nine or ten – I was desperate to know more about Sherlock Holmes. It was a name I'd heard. I knew he was some kind of policeman, I knew he had a funny hat, and I knew he was in a film called The Hound of the Baskervilles, which once came on the telly and got me sent to bed because it was too frightening. I remember lying upstairs that night, too excited to sleep – because I could hear the baying of a terrible hound, and the rapid-fire voice of a policeman who fought monsters. I needed to find out more, because I knew already this was my kind of hero: if Doctor Who had been a detective, clearly he'd have been Sherlock Holmes.