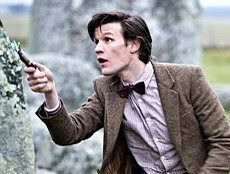 NB: Some links contain spoilers from the episode.
Press reaction to Doctor Who: Episode Twleve,
The Pandorica Opens
, has begun appearing with the
Daily Telegraph
calling the episode "Sensational, propelling the viewer on a gripping adventure with plenty of shocks and surprises, leavened with more emotional and humorous material for a heady mix."
The
Express
calls the story "classic fairytale, aimed, as always, at a family audience, with Matt Smith and Karen Gillan now complete in their respective roles". They make a plea to the BBC to safeguard the budget for the series saying it is one of the crown jewels and should be protected.
Den of Geek
say "How good was that? We've been salivating at the thought of what Steven Moffat could do with a finale two-parter since he first got the top job on Doctor Who. The answer? A lot". The
Guardian
blog says you need to watch this episode at least three times to get a proper handle on every little bit that's going on. Thing is, you'll want to.