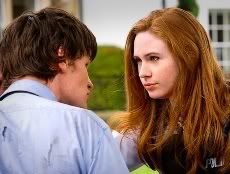 The Eleventh Hour made its debut in the United Kingdom earlier this evening and reviews of the episode are appearing online.
Warning: Some of the reviews may contain spoilers for those who haven't seen the episode.
The Telegraph
says
Matt Smith
has taken up the mantle as the alien Time Lord perfectly, giving an A+ to the casting director and an A+ to Smith, while it describes
Karen Gillan
as a fine foil.
The Mirror
breaths a sigh of relief with the headline
Phew.. a brilliant new Doctor Who
saying the Beeb's best franchise is in safe hands while
The Guardian
said some of the plot devices were a brilliant conceit that puts a new spin on a 50-year-old dynamic. The
Mail
says this was a deft first episode, packed with one-liners and an even more fantastical feel than of late, but with that old reassuring combination of intense Britishness, quirkiness and a sense of the macabre. And
The Independent
thinks Moffat has clearly picked the right leading man saying
he is the Doctor. And he might be more the Doctor than anyone who was the Doctor before
.
Fan reaction has been overwhelmingly positive with over 80% of contributors to the
Gallifrey Base poll
rating the episode 8/10 or more. Doctor Who and Matt Smith have both been trending topics on twitter.
To mark the transmission the
BBC Doctor Who
website has been updated with behind the scenes material, a clean version of the theme music and a tour of the new TARDIS interior.
Overnight ratings will be released Sunday morning and will be available on the
News Page
.