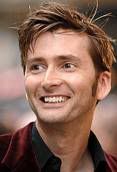 Several news sources, including
BBC News
and
The Mirror
, have today picked up on comments by former
Doctor Who
star
David Tennant
in the latest issue of Doctor Who Magazine, where he gives his backing to British Prime Minister Gordon Brown and the Labour Party. He also criticises the Conservative Party, particularly opposition leader David Cameron.
In the magazine, published last Thursday, Tennant is quoted as saying:
"I would still rather have Gordon Brown than David Cameron... I would rather have a prime minister who is the cleverest person in the room, than a prime minister who looks good in a suit. I think David Cameron is a terrifying prospect... a regional newsreader who will jump on whatever bandwagon flies past. I get quite panicked at the notion that people are buying his rhetoric, because it seems very manipulative to me. Clearly, the Labour Party is not without some issues right now and I do get frustrated. They need to sort some stuff out, but they are still a better bet than the Tories."
Tennant appeared in a party political broadcast on behalf of the Labour Party during the 2005 General Election campaign. Although he has made critical comments about the Conservative Party in the past, including in the Radio Times, this is the first time that his political stance has been widely reported by the mainstream media.